The Watering Can is a tool used to water your plants.
To use your Watering Can, press your "Use Tools" button (default Z on keyboard, X on X-box gamepad). You will notice your starter Watering Can will go through two steps before it actually releases water. This is its charge time. Unlike other farming games, you can actually move while you are charging your tool.
You will need to fill your water up at the well on your farm when you run out.
When you upgrade your Watering Can, it will now release water in a (1,2, or 3)x3 area, with you at the outside-center.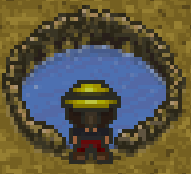 Using your Watering Can will increase your Watering Can proficiency Skill. Each level of Watering Can Skill you have will increases the speed at which you charge the Watering Can by 5%.
Your tools can be upgraded at the Blacksmith's shop for a cost. Upgrading your tools allows you to use them to break down stronger materials and/or be more time efficient.
References
Edit
Community content is available under
CC-BY-SA
unless otherwise noted.