The
Stone Set
can be acquired by killing the
Slime Lord
.
Acquiring
Edit
To get to the slime boss and kill it, you must first upgrade your Hammer and your Axe to the max (Octotinium) level.
Then you must use the
Axe
to enter the cave under the tree stump in the South-East corner of the
Hunting Grounds
, surrounded by
Hedgehogs
.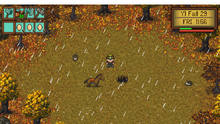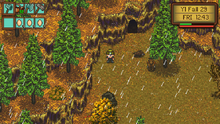 Inside the cave, all the way to the East, you will find a green acid pond. Use your Watering Can on it, and you will fill your Watering Can with acid. Exit the cave.

Next, you must go to the Boar Cave in the Hunting Grounds. Go up the stairs to the North-East of the Hunting Grounds, and continue around the cliff edge to the North-West edge. There is a cave surrounded by Boars and blocked by a large Boulder. Use your Hammer to access the cave.
In the cave, you will find a Large Rock to break. After this, continue to the North-West and you will find another large Boulder. This will lead to the Slime Lord.
Hit the Slime Lord until it starts to boil, and when it does, use your Watering Can filled with acid on it to prevent it from regenerating.
The Stone Set and a Shadow Plum are the rewards for destroying the Slime Lord.
Equipment
Edit
Title

Protection

Stone Helmet
10
Stone Armor
22
Stone Greaves
15
Stone Boots
6
+8 Protection, Reduces Move Speed
= 61
References
Edit
Community content is available under
CC-BY-SA
unless otherwise noted.