Shadow Plums
are items that, when eaten, permanently increase your max stamina by five. They can be found in a variety of different ways, including exploring the town and mining.
Locations
Edit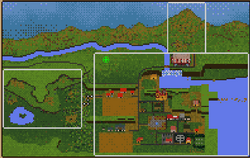 In a chest in the trees near the top left of the map.
On 30/F of the mine, inside a chest.
The Mayor's second friendship reward.
Give Denny's sword to Denny, which is in the well.
After repairing the pier, take the boat to reach another pier, there is an area surrounded with small stones before you take up the ladders, dig it with a hoe.
Defeat the slime lord. (Octo-Hammer and acid needed)
After repairing the pier and crafting the Diving Suit, dive in East River and open chest in top right corner.
No villager will accept a Shadow Plum as a gift, and they will simply hand it back to you.
References
Edit
Community content is available under
CC-BY-SA
unless otherwise noted.