Fishing
is an
skill
in
Gleaner Heights
.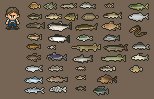 Before being able to fish you must buy a fishing rod at the General Store. It costs $4000.
The fishing rod can be upgraded at the Blacksmith.
To fish, position yourself at the edge of a suitable body of water. Press your "Use Tools" button (default Z on keyboard, X on X-box gamepad). You will cast your line into the water, and a bobber will appear. Then you must wait for a fish to bite. When one does, your fishing pole and bobber will start bobbing up and down rapidly in the water and you have a short window of time to press your Use Tools button again to reel it in. If you do not reel it in in time, your line still remains in the water and usable, you just have to wait for another fish to bite.
Locations
Edit
As you catch fish, your Skill in Fishing will improve. Each level of your Fishing Skill improves fish response time by 5% and the chance of catching more valuable fish by 5%.
| Name | Requires | Description |
| --- | --- | --- |
| Relativistic fishics | Fishing 3 | You experience time dilation when a fish bites, increasing your time to react by 30%. |
| Deep treasure | Fishing 6 | When fishing, you will occasionally catch something unexpectedly valuable. |
Lake refers to the area in the hunting grounds. All other water sources including the cave under the waterfall are river sources.
Note: All times and prices are approximate at this point.
Other Items
Edit
There are some things other than fish that you will fish up on occasion. Junk will be fished at any time however with the purchase of the deep treasure perk you may also be able to fish up rare items.
Junk can be thrown back in the water, or thrown away into a trashcan.
Deep Treasure
Edit
These items are available with the deep treasure perk.
Gabriel - "Hey, Do you like fishing? My dad used to fish a lot. One day he caught a huge salmon and the local paper made a story of it. I usually caught cans and boots."
Lee - " I caught some good fish the other day. Summer is a pretty good month for fishing. Just find a spot with some shade! "
References
Edit
Community content is available under
CC-BY-SA
unless otherwise noted.